Shortcodes included with WooCommerce:
Note: the shortcodes included with WooCommerce Product's information collected from the link.
[ it's can use with ShortCode on any page or any section or any column or any row .. ]
WooCommerce comes with several shortcodes that can be used to insert content inside posts and pages.
» Our WooCommerce blocks are now the easiest and most flexible way to display your products on posts and pages on your WooCommerce site. Read more about all the available WooCommerce blocks here.
» Where to use: Shortcodes can be used on pages and posts in WordPress. If you are using the block editor, there is a shortcode block you can use to paste the shortcode in. Read more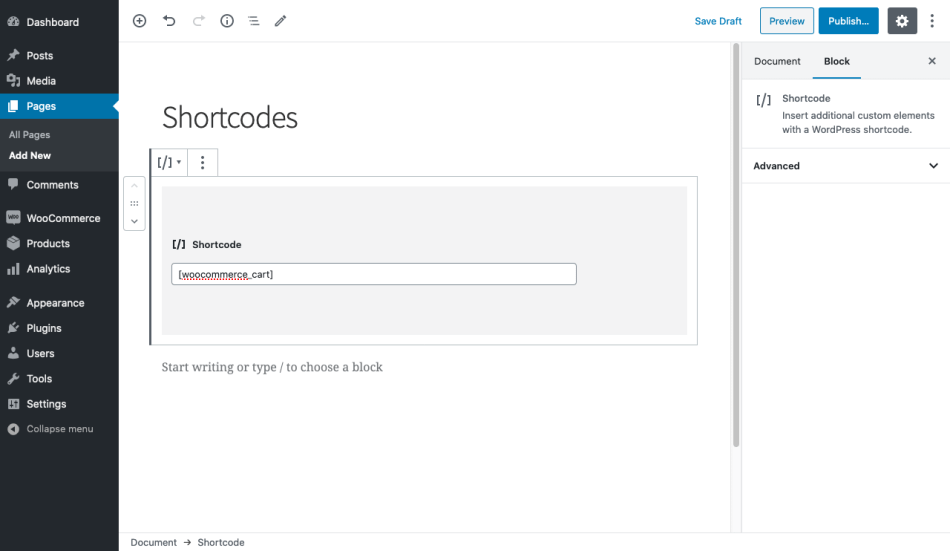 If you are using the classic editor, you can paste the shortcode on the page or post.
» Args (or Arguments):  Several of the shortcodes below will mention "Args". These are ways to make the shortcode more specific. For example, by adding id="99" to the [add_to_cart] shortcode, it will create an add-to-cart button for the product with ID 99. Read More
» Page Shortcodes
WooCommerce cannot function properly without the first three shortcodes being somewhere on your site.
Note: You can now test the new cart and checkout blocks that are available in the WooCommerce Blocks plugin!
[woocommerce_cart] – shows the cart page
[woocommerce_checkout] – shows the checkout page
[woocommerce_my_account] – shows the user account page
[woocommerce_order_tracking] – shows the order tracking form
In most cases, these shortcodes will be added to pages automatically via our onboarding wizard and do not need to be used manually.
» Cart: Used on the cart page, the cart shortcode displays cart content and interface for coupon codes and other cart bits and pieces.
Args: none
» checkout: Used on the checkout page, the checkout shortcode displays the checkout process.
Args: none
» My Account: Shows the 'my account' section where the customer can view past orders and update their information. You can specify the number of orders to show. By default, it's set to 15 (use -1 to display all orders.)
Args:
 — Current user argument is automatically set using get_user_by( 'id', get_current_user_id() ).
» Order Tracking Form: Lets a user see the status of an order by entering their order details.
Args: none
[

woocommerce_order_tracking

]
Products
Only Shortcode discuss my link here
Note: Since version 3.6, WooCommerce Core includes several product blocks. These are easier to configure than shortcodes, so if you are using the WordPress block editor, you may want to read more about WooCommerce Blocks first.
The [products] shortcode is one of our most robust shortcodes, which can replace various other strings used in earlier versions of WooCommerce.
The [products] shortcode allows you to display products by post ID, SKU, categories, attributes, with support for pagination, random sorting, and product tags, replacing the need for multiples shortcodes such as  [featured_products], [sale_products], [best_selling_products], [recent_products], [product_attribute], and [top_rated_products], which are needed in versions of WooCommerce below 3.2. Review the examples below.